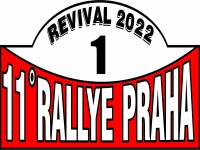 Dalibor Janek Memorial Rallye Prague Revival
Friday 22.04.2022
10,00 – 14,00 Shakedown / not mandatory/, Thursday all day
09,00 – 12,00 Administrative check – Kart centrum Radotin
12,00 – Ceremony start centrum of Prague
12,30 SS 01 Hipodrom
15,15 – Meeting, start area
16,15 Start of 1st Stage – Kart Centrum
18,45 Finish – Square of town Teplice
Saturday 23.04.2022
08,45 Start of 2nd Stage – Hotel Panorama
11,30 Lunch, hotel Panorama
17,40 Finish – Hotel Panorama
Sunday 24.04.2022
09,30 Start of 3rd Stage
13,30 Finish - Radotín Kart Centrum
18,00 CEREMONY - Restaurant
ATTENTION! The times may change slightly!
Organizing committee, officials
Press spokesman, foreign crews - Oldřich Švábek tel. +420724037619
Director - Patera Eduard
Steward - Malík Jaroslav
Chief scrutineer - Fürst Petr
SS sections chiefs
- Ejem Jan
- Malík jaroslav
- Flosman Petr
Contact with crews - Oldřich Švábek english speaker +420724037619
Administration - Just Ladislav, Kotašková Ivana
Press Center - UAMK, Ivana Kotašková
Track, Itinerary - Eduard Patera
Official notice board
1. All decisions, notification and results will be published on official notice board in the directorate or daily finish TC.
2. Official webside - www.edda.cz
General provisions
1. The event is organized as a club event of UAMK
2. Crews undertake to follow the event rules
3. Each crew is responsible for the technical condition of the car and proper insurance!
4. All crews undertake to follow the traffic regulations with the exception of the SS.
Track
40% 1st and 2nd class roads, 55% local roads, 1% bad quality roads, gravel.
Itinerary will be provided at the start and service area.
1. Service zone and parking is at Kart centrum in Radotín. The complex is locked at night and guarded at night. The service and transport vehicles may be parked there. A car will be provided by organizers to store luggage or tiny spare parts of foreigners. Cars that arrive on their own are parked in the area at the start. GPS 49.9921581N, 14.3773572E
2. Track length
– 1st Stage 147 km
- 2nd Stage 343 km
- 3rd Stage 142 km
Total 632 km
3. There are some Show sections (SS) on the track - these parts are on closed track. The crews have to use helmets and seat belts fastened! Start is 5 min. after TCA!
1 sec = 1 PP – penalty point. Knock down traffic cone = 10 PP. Finish is of a STOP type!!!
You must stop your car between the Stop sign and the traffic cone /10m/. If not, you will get 10 PP. These sections are optional! If you not participate in this section, you will get the time of the crew who is last in your class.
SS 01 - 50% asphalt, 50% grass and concrete panels
SS 02,11 - 100% gravel,
SS 03,06,08 - 100% asphalt
SS 04,07 - 100% asphalt
SS 05,09,10 - 80% asphalt 20%gravel
4. PC - Pass control – checked by GPS, missing PC = 100PP
5. RC - Speed Control – radar control. CZ rule - village 50 km/h, road 90 km/h
- speeding – tolerance of 5 km/h (urban) or 10 km/h (rural road) over limit.
- each km/h above tolerance = 10 penalty points / e.g. 64 km/h in village = 90 PP
- more than 30 km/h within urban area (village) – Immediate disqualification!!!
6. TC - Time control
– will be almost always before and after the SS sections.
- will be marked A and B For example - TC 4A, TC 4B
- early arrival to TC = 100 PP
- late arrival to TC - every 1 min = 10 PP, max. 100 PP
NEW REGULATION!!!
If breaching the time between TC A and TC B (early/late) - every minute = 10PP, Time is marked in the Time card! If you come to TC A later, do not keep this time and when leaving, re-enter on your position according to the start list. The commissioner must confirm this in the Time card
7. TRC - trafic rules control
- for not stopping at the STOP traffic sign – 100 PP
- for passing the traffic light if red light is on – 500 PP
The Cars
1. The Event is for historic cars up to 1985. For cars up to January 1990 with penalty of 250 PP.
2. Classes
1. = A1- 1150ccm 5. = A2- 1150ccm
2. = A1- 1600ccm 6. = A2- 1600ccm
3. = A1- 2000ccm 7. = A2- 2000ccm
4. = A1+2000ccm 8. = A2+ 2000ccm
9. = cars with penalty to 1600ccm
10. = cars with penalty up 1600ccm
3. The crews report the class of their car to the scrutineer. The scrutineer can transfer the car to correct class any time during the event.
4. The allowed adjustment for A1 may be found in section "VŠE O RALLYE" at the www.edda.cz/mscrdovrchu/
5. Each car gets penalty points corresponding to its production year. For example -
Lada VFTS – production 1984 = 84 PP
Ford Sierra Cosworth – production 1986 = 86 PP + 250 PP
VW Golf GTI I. – production 1976 = 76 PP
Applications
Registration by email to x.racing@seznam.cz.
Start fee
Start fee is 4 600 CZK / 190 EURO
Liability and insurance
All crews start on their own responsibility. Organizer refuses all responsibility for the participants.
Administrative scrutineering
Administrative scrutineering will be held according to the schedule in the tent in Kart Centrum. A refundable deposit of 100 euro / 1000 CZK for GPS units will be collected.
Technical scrutineering
9,00hr. -12,00hr. You must complete it before administrative check, at the place of event start. The technical scrutineering is mandatory only for cars of class 1-4!
Results, classification
1. The crews will be classified by the sum of PP points in the class; summed up all SS, TC, PC, RC, TRC and penalty.
2. Results list in classes and overall ranking will be available at the directorate 50 min after the last car arrives at the Finish.
3. The crews who retire on Friday or Saturday can start again next morningThey will get the same time as the last crew in the class. Change of a car is possible.
4. FOREIGN LEGENDS – will be specified on 12.4.2022
Jaroslav Malík Eduard Patera
Steward Competition Director
sisli escort
taksim escort
maslak escort
umraniye escort
mecidiyekoy escort
atakoy escort
besiktas escort
bakirkoy escort
istanbul escort
beylikduzu escort
atasehir escort
kadikoy escort
Бишкек эскорт
tuzla escort
bagcilar escort
beykoz escort
turbanli escort
kartal escort
maltepe escort
bebek escort
levent escort
pendik escort
sisli escort
istanbul escort
umraniye escort
sex shop
sex shop
sex shop
sex shop
sex shop
sex shop
sex shop
sex shop
sex shop